Net Polypropylene Fiber
Tags: Net Polypropylene Fiber
Overview: Polypropylene fiber (net) can significantly improve the bond performance between fiber and cement mortar, concrete.This prevents early cracking of cement and concrete, effectively prevent the happening and development of mortar and concrete cracks , so to ensure uniform exudation
Polypropylene fiber (net) can significantly improve the bond performance between fiber and cement mortar, concrete. This prevents early cracking of cement and concrete, effectively prevent the happening and development of mortar and concrete cracks, so to ensure uniform exudation, prevent segregation and hinder the formation of settlement cracks. Though experiments show that 0.1% volume content of fiber, the crack resistance of concrete mortar increased 70%, on the other side, it also can significantly improve the permeability resistance up to 60% 70% (compared with the common cement).
Concrete specimen failure pattern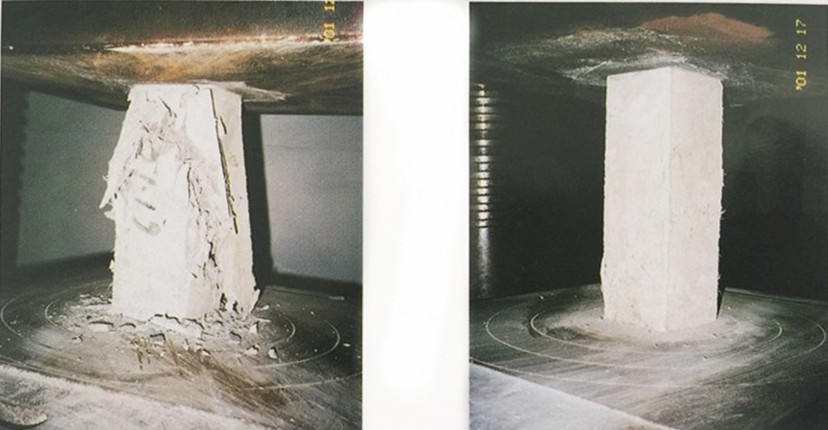 Concrete without fiber Concrete with fiber
It can significantly improve the shock and abrasion resistance performance of concrete. The polypropylene fiber has low stiffness and poor transmission load cutting ability, but it can absorb the impact energy to reduce cracks, enhance continuity medium material and reduce the local stress phenomenon caused by the blocked shock wave, thus can greatly improve the impact resistance and toughness of concrete.

It can improve the frost resistance of concrete using the fiber product. Adding polypropylene fiber in concrete can reduce the effect of internal stress caused by temperature changing and also prevent temperature crack extension; moreover, the improvement of concrete frost resistance also could improve its frost resistance. Though practices and studies show that it is an efficient mean to resist crack when adding polypropylene fiber to concrete.

It can improve mortar and concrete toughness, significantly improve the edges and surface integrity of the product using the fiber, thus to protect the internal rebar from corrosion.

Specification:

| | | | |
| --- | --- | --- | --- |
| Fiber type | Net(Mesh) | Density | 0.91g/cm3 |
| Linear density | 14.5-18.9dtex | Melting point | 165-175℃ |
| Breaking strength | ≥ 500MPa | burning point | 590℃ |
| Elongation at break | 15%-20% | Length | 19mm |
| Modulus of elasticity | ≥ 3500MPa | Acid and alkali | Strong |
| Cross section shape | Y type | Phase volume diameter | 0.048mm |
| Fiber type | Net(Mesh) | Density | 0.91g/cm3 |
Usage:
1. High grade concrete pavement and fencing, bridge, factory floor crack demanding project, it'll improve the service life of the pavement by 5 to 10 years.

2. The face rock-fill dam of Hydraulic and Hydro-Power Engineering, spillway, diversion hole, etc.

3. The airport runway, apron pavement, it can doubled enhance the road of impact strength and abrasive resistance.

4. Tunnels, mines, subway, etc. On top of the sprayed concrete and wall, slope reinforcement, etc.

5. The basement's wall, floor, building waterproof; Water channels and reservoirs waterproof; Corrupt pool, swimming pool.

6. Military protection engineering, port, wharf, yard, river.

7. Concrete slab, beam, wall decorating plate, the wall of external insulation board, cement pipe, telephone poles, pile head, ect.